Orthotics Leduc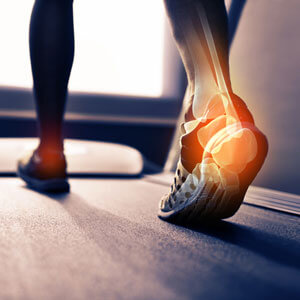 As your feet are the foundation of your body, you want them to feel terrific and be functional. If you have foot pain or a foot condition that affects your quality of life, orthotics may help. These shoe inserts provide support, stability, and balance.
Here are some foot conditions that respond favorably to orthotics:
Achilles tendonitis
Ball of foot pain
Bunions
Calluses and corns
Morton's neuroma
Plantar fasciitis
Orthotics can also provide natural, lasting relief for back pain, knee pain and shin pain.
Preparing for Your Visit
Please bring a few pairs of shoes that you wear most often. We will ensure your footwear is orthotics friendly, and we may recommend footwear. To ensure your comfort and make your assessment as easy as possible, we recommend you wear shorts or pants that you can roll up to your knees.
What to Expect
Your orthotics assessment will take approximately 30-45 minutes and include the following:
The appointment will start with a review of your past medical history and the history of your present illness/condition.
Dr. Mutti will ask you several questions, including any medications you are currently taking, allergies, symptoms around your current issue, your occupation, activities, and types of shoes you wear. It is a good idea to bring a list of medications if you cannot remember all of them.
This exam consists of a complete hands-on evaluation of the lower limb, including foot structure, alignment, strength, range of motion, and whether any abnormalities are present.
This will be performed to assess the range of motion in the joints of the foot and lower limb, as well as the presence of structural or functional abnormalities and their compensations. We'll observe you walking to identify accommodations or abnormalities.
We'll determine your treatment options and explain how the treatment will address your specific needs.
The Casting Process
If a custom foot orthotic is recommended and you agree to our treatment plan, you will then be casted. This process involves creating a three-dimensional mold of your foot using plaster of Paris, an STS slipper sock, or a laser scanner while you're in a non-weight bearing position.
Once casting has been completed, your appointment will be finished. The molds of your feet will be used to make the custom foot orthotics.
Getting Your Orthotics
Please allow at least a week for manufacturing time. Then we will contact you to come in for a fitting appointment to pick up the orthotics.
At your fitting appointment, Dr. Mutti will ensure the orthotics fit properly into your shoes and feel comfortable. You will also be given instructions on how to break in the devices and educated on signs that suggest the orthotics are not working properly. If you have any orthotics issues, Dr. Mutti can adjust or modify them.
Does Insurance Cover Orthotics?
Most insurance companies will cover the cost of orthotics. We recommend you confirm with your insurance provider prior to your appointment what percentage will be covered through your benefit plan, and what additional documentation is required while you submit for reimbursement.

Orthotics Leduc AB | (780) 986-3666